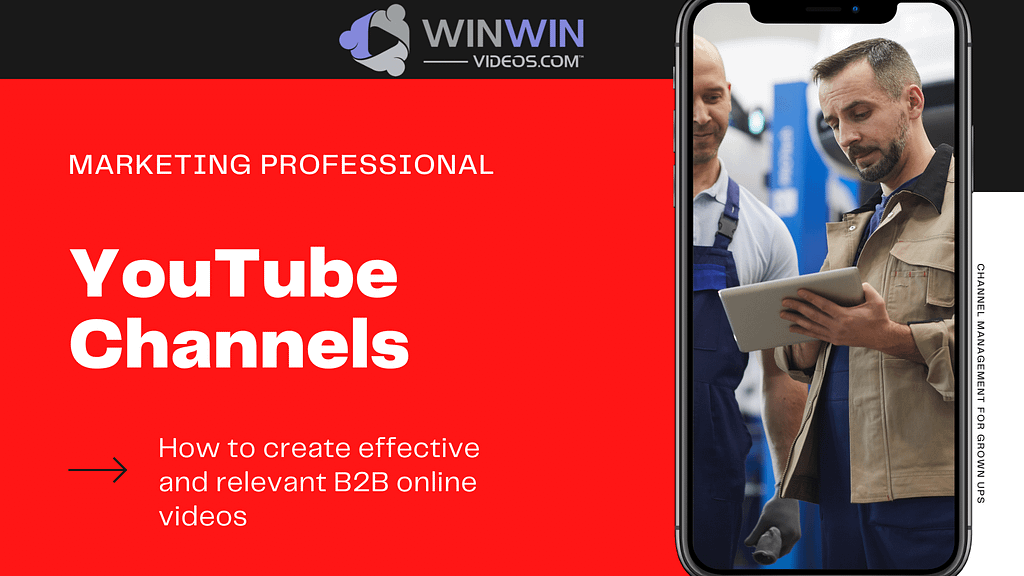 As a professional marketing exec, you likely have at least some of your brands' videos on YouTube.
A common response we hear when I ask people about YouTube, though, is along the lines of the following: "YouTube? Yeah, I know YouTube, I see my kids on it all the time."
What we hear too little, though, is how marketers are using their own YouTube channel videos to empower earned media.
The reality is YouTube is much more than a virtual babysitter for kids. Your YouTube channel is an essential social platform for your B2B videos.
We're here to help you deliver high-performing video, including the following professional video marketing tips.
1. Free is a very good price
Want to stretch your Marketing spend, and multiply your video marketing efforts?
Making your videos readily available to a global audience with 2B+ Monthly Active Users is a pretty good place to start.
As a professional marketing exec, you might want to share the following when defending video budget allocations with your boss:
YouTube is the second most visited website after Google

75% of US adults use YouTube

50.9% of B2B decision makers use YouTube to research purchases

YouTube is the most-used social platform to research purchases

70% of viewers bought from a brand after seeing it on YouTube
Did I mention that setting up, and posting videos to a YouTube channel is free?
Yes, your company's website is beautiful. And yes, Google would love for you spend on paid media.
That said, any paid media video spend is at your discretion. Your own YouTube channel, and posting videos is free.
Managing your YouTube channel is imperative to 99.9% of businesses of which I am aware (local homestead traders without nearby broadband access excluded).
And, even if you are primarily focused on your O&O website, you can backlink to your website from your YouTube channel to build your O&O website audience.
Simple, Easy-to-use
For all YouTube's sophistication, the platform is amazingly simple and easy-to-use.
There are many very sophisticated video features; however, the core features are easily managed.
As a video production company, Media 272 and Win Win Videos are happy to support clients with YouTube channel management, and insure high performing videos.
If you have an agency on retainer, this should definitely be a checkbox when considering service-level, and video marketing expertise.
Common gaps with many digital agencies include: 1) a laser focus on paid media spend and a single, promoted spot, 2) an assumption that "someone" else is managing the client's broader YouTube channel, and / or, 3) less-sizzle oriented, more real, authentic, relatable videos videos are often overlooked.
Content marketing platform
We all love a high-quality commercial spot. For us creatives, brainstorming creative video ideas, evolving brands, and delivering custom video results is a true passion point.
The problem often seen is a laser focus on an awareness spot, while overlooking consideration and conversion videos. A single spot often drains resources, and actually detracts from what should be your true aim – turning leads into deals.
YouTube's free features empower savvy marketers to round out your customer journey mix. A content marketing platform, YouTube offers the freedom to provide videos that touch multiple points in your buyer's journey.
While an awareness spot might be the focus of your paid media spend, a supporting cast of consideration and conversion videos drive sales.
A programming suite of videos can guide viewers to make informed decisions, build trust via testimonial videos, and answer FAQs to empower salespeople to close more deals.
Small and large success
Google and YouTube love to deliver the perfect answer to prospective customer queries.
In this regard, YouTube is very much a champion of businesses of all sizes, including small businesses with outsized ambition.
Data-munching servers love diversity, long-tail requests, and one-to-one local match making.
Tailoring your videos to your specific customer needs allows YouTube to pair your videos with prospects in the blink of an eye.
YouTube's accessibility prioritization, including mobile needs, means your videos can reach quality leads just about anywhere.
The prioritization of quality matches means your videos can outrank competitors who are trying to spend their way to the top.Economies-of-scale empower YouTube not only to extend free channels, but also to empower the little guy with the same tools as the big spenders.
2. Earned media
Secure competitive advantage not by simply outspending your competitors; rather, gain an edge by making every dollar spent go farther via earned media.
You might be familiar with the classic spot tagline emoted by John Houseman, "They make money the old-fashioned way, they earn it."
Quality creative that resonates with viewers, and attention-to-detail earns better search results listings.
An upfront investment in custom, localized videos reverberates across both paid and earned media.
A common challenge is the false assumption that simply posting a high-quality video, or shared national video will magically surface, and produce results for your local businesses.
While we applaud global thinking, battles are won locally, and in video terms that means local videos reflecting the local customer base.
YouTube is also a data dependent platform, which means attention to titles, descriptions, thumbnails, closed-captions, and end cards matter.
An example is a local dealership including the city and state in the video description to allow YouTube to pair viewers in that area with the video.
While these elements are relatively simple compared to the planning, execution, and post-production that goes into video production, attention to polishing touches affects what sort of payout you might earn for you videos.
Your brand's professional image is reflected in your attention to detail.
EAT – Expertise, Authority, Trustworthiness
Good news! Your quality Brand video earns media.
Professional marketers know that YouTube have a shared interest in connecting searches with reliable video sources.
While ~anyone can upload videos, YouTube favors useful, quality, and reputable videos to improve the usefulness of YouTube itself.
Google's algorithms are augmented to ensure accurate, truthful, and useful information to video searches.
Word-of-"Mouse"
You worked hard to build up your company's word-of-mouth.
In today's digital world, word-of-"mouse" or what people click and share matters.
Today's word-of-mouth also means someone sharing about you in-person might also use YouTube mobile to illustrate a point then-and-there.
YouTube is a social media platform, and, as such, it's more than a video site.
Community building starts with responding to comments, grows to feedback responsiveness, and blossoms with subscribes, favorable reviews, and sharing.
Sharing is caring, and that starts with you offering videos that share insights with your audience.
For some, shifting from "what I want to tell customers about my brands" to "what might my customers want me to share" can be a real mind-shift. Embrace it.
To earn time watched, engagement, and influence, start by serving the viewers' needs, and work backwards to how you solve their problems.
Funnel – Top / Mid / Bottom
Revisiting the super bowl ad example, too often we see YouTube channels with a primarily top-of-the-funnel experience.
Some folks might be thinking, "well my commercial spots are geared to drive folks to the website, and we'll take the customer journey from there." In brief – mistake.
For starters, an awareness spot is likely to be short, visually heavy, and SEO friendly text light.
Longer form, generally consideration and conversion videos, tend to be much more YouTube search friendly.
Long-tail problem-solution videos pair well with questions typed in search queries.
As a reminder, you want deals, not just leads. Customers are increasingly researching products and services via videos before ever visiting your website, or sales team.
Your YouTube channel allows flexible video lengths, which allows you to meet your prospective buyers at their respective stage in their journey.
Good-and-flashy videos are great to gain awareness. Drive sales, too, by providing long-form testimonial videos, how-it-works videos, and FAQ videos, as prospective buyers migrate towards making an informed decision.
Call to Actions (CTAs)
Another simple but common mistake is failing to lead your video viewer to the next step.
Often, this is as simple as updating the end card, or including links to the next logical step.
You earned the viewer's attention with your awareness videos, which is no trivial task. Now, earn your reward by advancing the viewer to take the next recommended action, view the next logical video, or visit your website.
3. Learning
Yogi Berra once said, "You can observe a lot by just watching."
As it relates to digital video marketing, you can learn a lot by watching what, and how, your viewers are watching high quality videos.
While it can be easy for us creatives to get wrapped up in delivering the penultimate video, believe it or not, sometimes there might be better video versions.
Top-line views are neat, but ultimately you want your videos to reach your desired audience, optimized for a given platform, and on-message for a given point in the customer's journey.
Testing video lengths, alternative edits, and creative treatments set you up for future success.
Also, be mindful to include thumbnails, playlist placement, CTAs, titles, and descriptions in your creative reviews.
While not as glamorous as being on-set for a video shoot, details matter, and better inform your ongoing video production.
Having a designer spend a few hours upgrading your thumbnail can dramatically improve your click rates.
Setting a logical progression from one video to another might affect the context in which your viewer opts to, or not to, view the next video.
Spending a few hours honing the video titles and crafting custom descriptions that might live on YouTube for a year or more, is time well spent.
A further simple QA check should include checking competitors or other channels you follow for what they do well, and not so well. Learn from others mistakes, so you can skip ahead to your success.
We can make video production, strategy, and fun!
We're here to help.